Starting keto or need help getting dirty keto results? Dirty keto vs clean keto, we agree on one thing – we want weight loss results! Help is here: Top Ten KETO TOOLS (with helpful links)! These keto weight loss resources can help you jump start you into ketosis and stay on track to achieve your goals.
As shared on the DIRTY, LAZY, Girl podcast, here are the links for resources recommended during the show.
Most Helpful Big Ticket Kitchen Appliance
Stephanie – Air Fryer
Tamara – Crock Pot
Inexpensive Kitchen Tool
Stephanie – Glass Bowls with Tupperware lids
Tamara – Waffle Maker
Most Used App
Stephanie – Spotify
Tamara – Youtube Yoga
Best Support Group
Stephanie –The DIRTY, LAZY, KETO Premium Support Group for Women Only (live classes)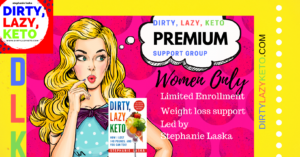 Tamara – Fat Girl Running Facebook Group
Most Inspirational Podcast
Stephanie – Oprah's Super Soul Conversations
Tamara – Happier by Gretchen Rubin
Best Big-Ticket Exercise Splurge
Stephanie – Apple Airpods
Tamara – Boot Camp (local gym)
Most Useful Inexpensive Exercise Purchase
Stephanie – Nike Sports Bra (sizes XS – 4X) and Running Belt (XS-XL)

Tamara – Roo Sports Pouch
Most Frequently Used Reference Book
Stephanie – 15-page Grocery List inside DIRTY, LAZY, KETO Get Started Losing Weight While Breaking the Rules by Stephanie Laska (St. Martin's, 2020)
Tamara – The DIRTY, LAZY, KETO Fast Food Guide: 10 Carbs or Less by William and Stephanie Laska (2018)
Most Visited Website
Stephanie – Walmart.com
Tamara – allrecipes.com
Recommended Fitness Program
Stephanie – Walking
Tamara – Couch to 5K
Would you like to hear the explanation behind Stephanie and Tamara's recommendations? Watch the video podcast on the DIRTY, LAZY, KETO YouTube Channel!
If you found the recommendations to be helpful, be sure to like the video, make a comment, and subscribe. Thanks for your support!
Want more help with starting keto? Be sure to check out the full line up of DIRTY, LAZY, KETO books. There is a resource here for every need.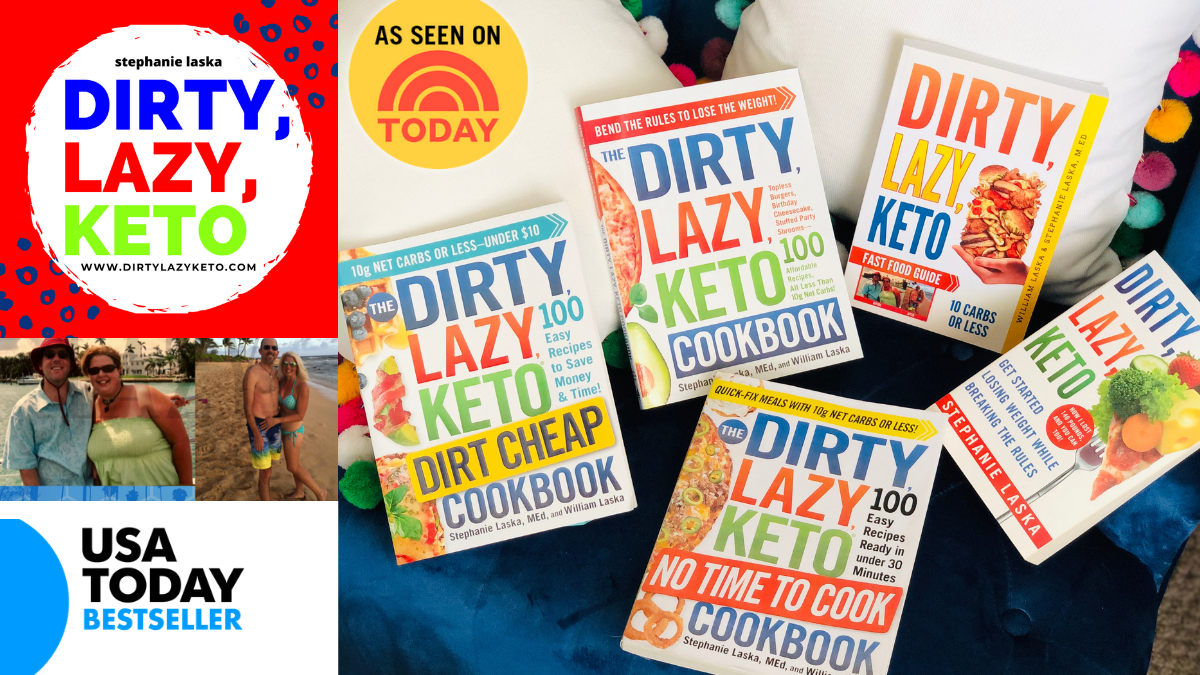 As an Amazon Associate, I earn a small commission from qualifying purchases.
At no cost to you, these earned fees help with the operating costs of this website.