Podcast: Play in new window | Download
Subscribe: Apple Podcasts | Spotify | RSS | More
Stephanie Laska lost 140 pounds, roughly half of her body weight, by following a ketogenic inspired diet. She figured out that the secret to losing weight without the crazy restrictions of a traditional keto diet was to break the rules and create her own "dirty" and "lazy" outlaw version of keto.
Stephanie spent most of her adult life in the Morbidly Obese Class III BMI category. Hovering close to 300 pounds, she avoided booths at restaurants and feared not fitting into amusement park rides. "I once put my jacket over my lap so the flight attendant wouldn't see that my seatbelt wouldn't close," she admits.
That embarrassing moment was concerning, but it wasn't until her son nearly lost his life on a roller coaster that Stephanie kicked it into high gear with the keto diet. "As my seat partner on the Thunder Mountain ride at Disneyland, my little boy was completely unprotected from the ride's safety bar. He practically flew out of the ride down the first hill. The safety bar protected my 300 pound body – but not his!"
Desperation and embarrassment motivated Stephanie to stop living in denial about her obesity. She was determined to try anything! When a friend suggested she could drink a cold beer, cut back on carbs, but lose weight, Stephanie was intrigued. Any diet that included loopholes for having a chilly one should be first on the list, she admitted.
Through trial and error, Stephanie learned how eating a low carb, moderate protein, higher fat diet could finally nudge her weight in the right direction. "This is the weirdest diet ever!" went through her mind every time she got on the scale. Coming from an era of eating Fruit Loops washed down with a pitcher of Kool-Aid, Stephanie was clueless about the metabolic effects of consuming too many carbohydrates. For Stephanie, the strict keto diet didn't make sense for the long term. Complicated math, expensive ingredients, and rigid guidelines? No thanks! Stephanie figured out the secret to losing weight was to break the rules. She believed there had to be a better way.
DIRTY, LAZY, KETO explains the unique keto diet Stephanie followed to achieve her amazing weight loss success. Using humor and simple explanations, Stephanie walks the reader through her personal manifesto for effective weight loss and maintenance. Her way is doable. Nothing fancy is required. It's a practical solution for everyone! Stephanie shares how you can have your sugar-free cake (and eat it too) with long-lasting results. Her weight loss secrets and lifestyle tips are out in the open with DIRTY, LAZY, KETO Get Started Losing Weight While Breaking the Rules.
"Keto dropouts" shamed for wanting a Diet Coke and keto beginners intimidated by complicated math and strict rules shout "hallelujah" over DIRTY, LAZY, KETO. It's the surprising alternative that has helped hundreds of thousands from around the world.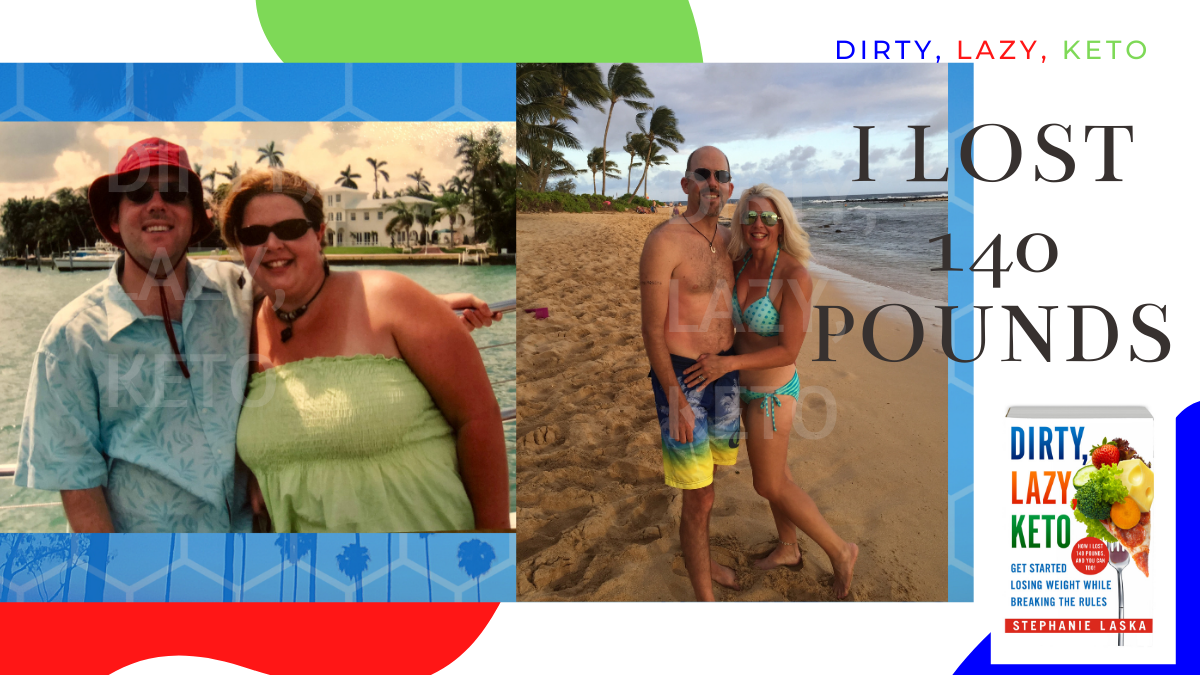 We all know losing weight isn't as simple as "cutting carbs". It takes so much more, and fans of DIRTY, LAZY, KETO are hungry for the whole story. Part girlfriend's guide and part inspirational story, DIRTY, LAZY, KETO Get Started Losing Weight While Breaking the Rules satisfies readers with the tools they need to overcome likely obstacles in their own weight loss journey:
"What do I eat?" – Shopping for groceries, meal planning, and simple recipes…all with net carb counts included
"I want SUGAR!" – Managing cravings for sweets, treats, and chocolate
"But that's not keto?" – Dealing with sabotagers and food police
"Wah! I only lost 10 pounds this month." – Creating realistic, appropriate goals
"Time for happy hour!" – Navigating restaurants and social events…tips and what and how to order to stay on track
"Hey… it's my birthday!" – Cutting through excuses and myths about cheating
"Motivate me!" – Rebooting passion and commitment after a slip up or cheat
"Exercise? No thanks." – Overcoming a fear of sweating inside the new bod
"What now?" – Strategies for long-term weight loss maintenance, for-evah!
Losing weight is not just about food – with DIRTY, LAZY, KETO, it's a lifestyle. Readers feel hopeful and empowered after reading the complete weight loss guide, DIRTY, LAZY, KETO Get Started Losing Weight While Breaking the Rules.
Expect more humor, honesty, and inspiration from USA Today bestselling author, Stephanie Laska. She passionately believes that we have to stop shaming and blaming people that struggle with their weight. There is a better way!
Stephanie Laska doesn't just talk the talk; she walks the walk. She is one of the few keto authors that has successfully lost half of her body weight (140 pounds!) but even better, has maintained that weight loss for seven years and counting. DIRTY, LAZY, KETO is celebrated by fans all over the world. Did you catch her cooking debut with Al Roker on NBC's The TODAY Show? Her story and image have been celebrated in articles by FOX News, US News & World Report, New York Post, Reader's Digest, Yahoo News, First for Women Magazine, Women's World Magazine, Muscle and Fitness: Hers, Keto for You, RunDisney, and Costco Connection Magazine. She has run a dozen marathons, most notably the New York City Marathon as a sponsored athlete from PowerBar. Not bad for a girl who ran her first mile (as in ever!) close to age forty.
Let Stephanie help you lose the weight and keep it off for good… the dirty, lazy way!
FULLY EXPANDED EDITION OF THE BESTSELLING MINI GUIDE
Listen to the full interview! Stephanie Laska explains why she decided to #breaktherules in this week's episode of the DIRTY, LAZY, Girl Podcast, available for listening here on the website (link at top of post), or through ApplePodcasts, Spotify, IHeartRadio, GooglePodcasts, Stitcher, or wherever you like to listen to podcasts.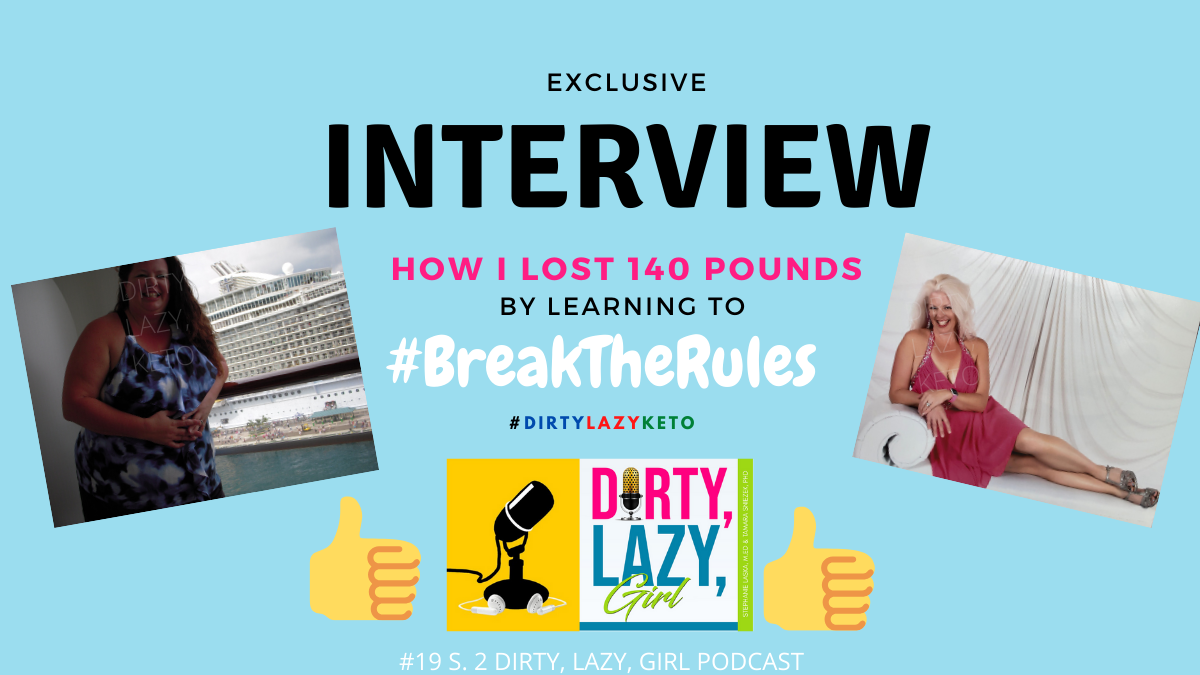 At the end of the interview is a FREE audio clip from DIRTY, LAZY, KETO Get Started Losing Weight While Breaking the Rules from Macmillan Audio. If you're a fan of ebooks and audio books, you'll be excited to know that the narrator of this hot new release is read by the author, Stephanie Laska! Order your audio book from Macmillan at https://read.macmillan.com/lp/dirty-lazy-keto-audiobook/.