Quick-fix ketosis recipes that taste amazing? Right here, folks. The keto diet is faster and more accessible than ever before with 100 easy-to-make, delicious, ketosis recipes you can make in 30 minutes or less from USA TODAY bestselling author Stephanie Laska.
No one wants to spend all day in the kitchen (who has time for that?). With the help of The DIRTY, LAZY, KETO No Time to Cook Cookbook, you'll learn how to quickly prepare mouth-watering ketosis recipes the whole family will love. And, with the help of Stephanie's trademark sass, you'll have a good time along the way.

After losing 140 pounds following the keto diet, Stephanie understands how hard it can be to find the time to cook, especially while managing a hectic household. For instance, at the end of a busy day, she had to get food on the table—fast. She didn't have a second to waste preparing meals that her family might not like. Instead, Stephanie made her own recipes that she knew her family would love while still keeping them healthy.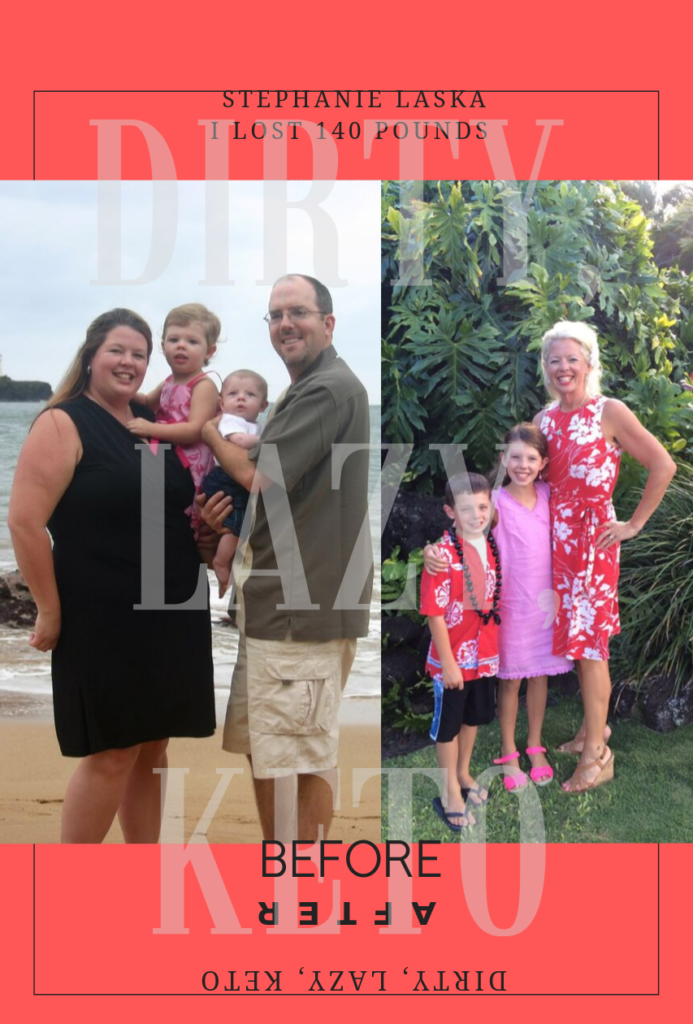 In The DIRTY, LAZY KETO No Time to Cook Cookbook, you'll find 100 great-tasting ketosis recipes that you can make in 30 minutes or less. With simple, easy-to-find ingredients, you'll have a popular low carb dinner ready on the table in no time. In fact, no fancy-pants or expensive ingredients are required.
This flexible, honest, real-world approach to losing weight while still living a normal life empowers you to keto your own way—in a style and schedule that works for you. This no-judgment cookbook offers you the support you need as you venture on your own unique path to sustainable, healthy weight loss—not perfection.
For instance, DIRTY, LAZY, KETO is so more than just a collection of ketosis recipes; it's a community. From the podcast to the support groups, and all of the helpful videos shared on the DIRTY, LAZY, KETO YouTube channel, you'll get the encouragement you need to be successful and reach your weight loss goals.
The DIRTY, LAZY, KETO No Time to Cook Cookbook is the third in the series, but cookbooks may be purchased in any order. Each contains 100 unique ketosis recipes (no repeats), all 10g net carbs or less per serving – macronutrients provided. Inside you'll also find helpful weight loss advice and tips for making the keto diet easier (and dare I say fun?).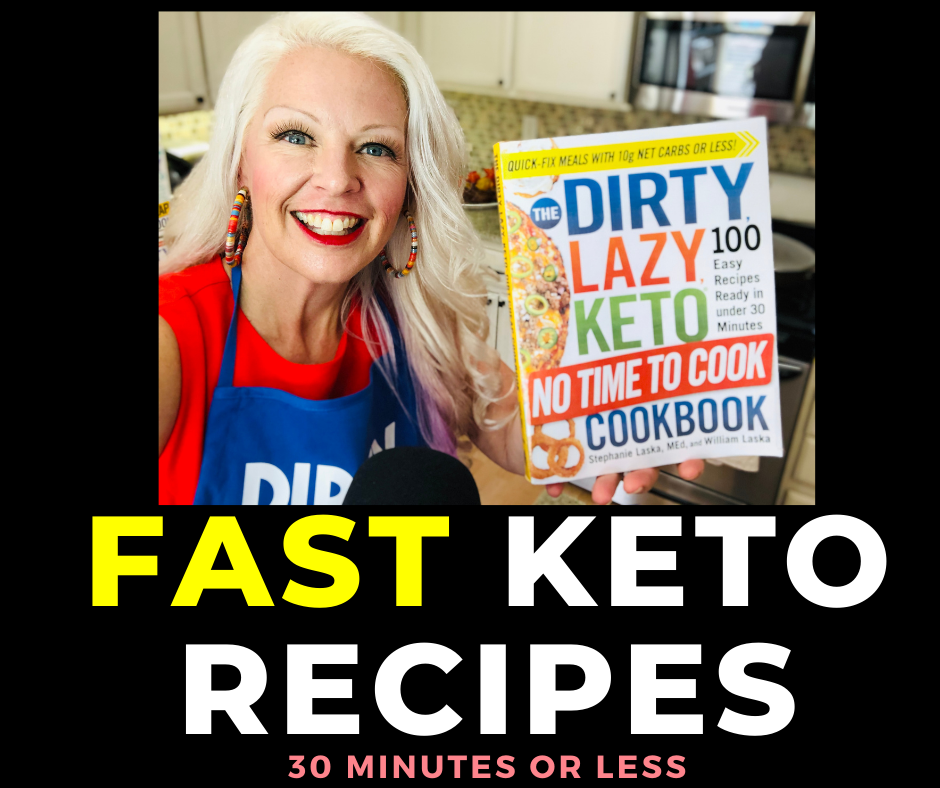 For example, Delivery Donuts, Swift Cinnamon Rolls, Shortcut Cinnamon Toast Sticks… those fun recipes are in the keto breakfast chapter. Tick Taco Pizza, Ready or Not Corn Bread, Galloping Grits – you can see how cooking a keto dinner is going to be fun! Let's not forget about keto dessert (equally important, right?). Next up, you'll find scrumptious ketosis dessert recipes like Breakneck Salty Pecan Bark and Crash Course Chocolate Chip Cookies on the menu. Boom.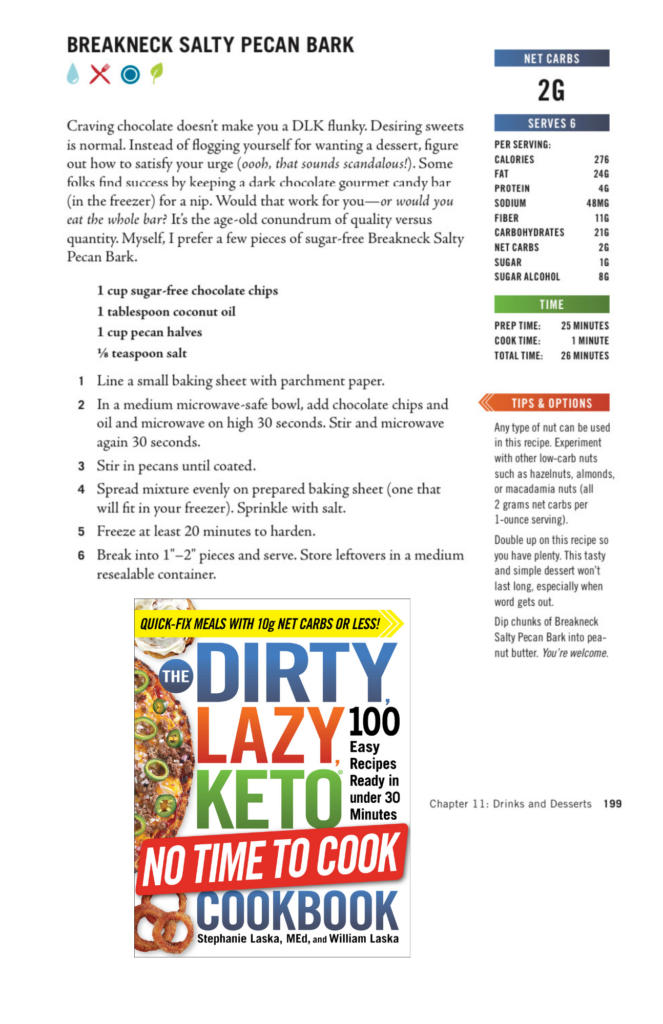 Consequently, even the recipe names will put you in a good mood to cook ketosis recipes FAST. Weight loss doesn't have to be boring, remember? With humor and sass, author Stephanie Laska will teach you how to "do keto" while having a good time. Get started with DIRTY, LAZY, KETO today.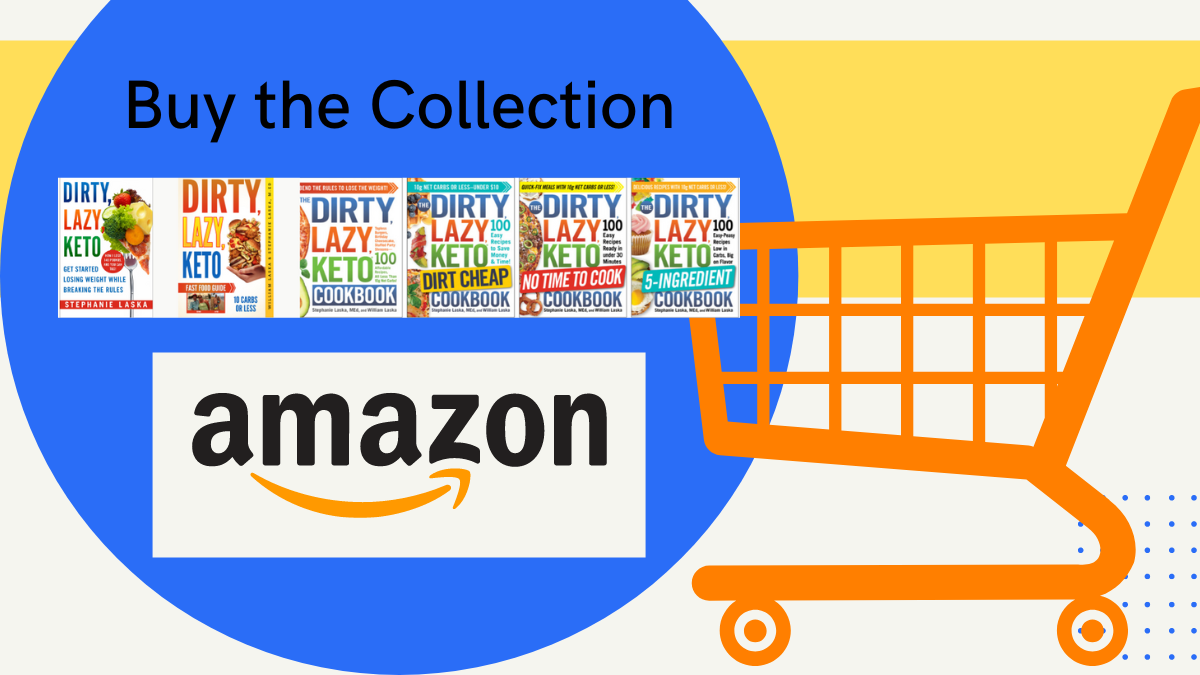 If you'd like to buy the complete set, click here to view them as a list on Amazon.
Ketosis Recipes & Keto Diet Resources – Collect them all!
DIRTY, LAZY, KETO Get Started Losing Weight While Breaking the Rules (St. Martin's, 2020)
The DIRTY, LAZY, KETO 5-Ingredient Cookbook: 100 Easy-Peasy Recipes Low in Carbs, Big on Flavor (Simon & Schuster, 2021)
The DIRTY, LAZY, KETO No Time to Cook Cookbook: 100 Easy Recipes Ready in Under 30 Minutes (Simon & Schuster, 2021)
The DIRTY, LAZY, KETO Dirt Cheap Cookbook: 100 Easy Recipes to Save Money & Time! (Simon & Schuster, 2020)
The DIRTY, LAZY, KETO Cookbook: Bend the Rules to Lose the Weight! (Simon & Schuster, 2020)
DIRTY, LAZY, KETO Fast Food Guide: 10 Carbs or Less (2018)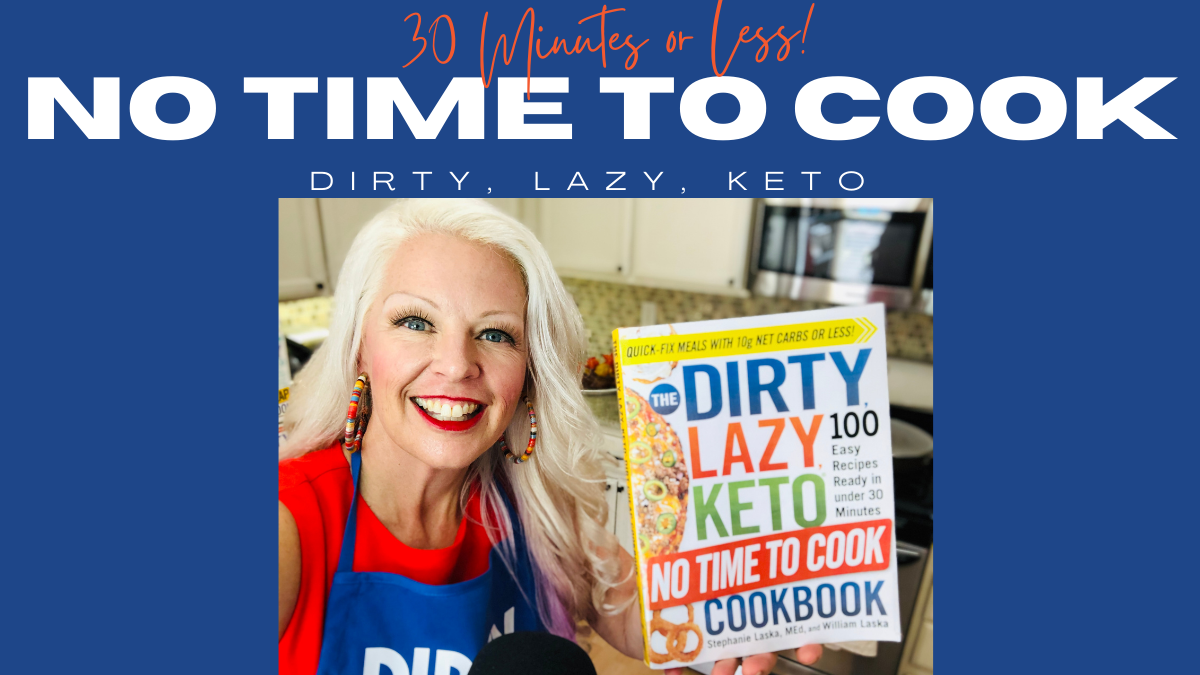 Helping to keep this site and many of the resources free… at no cost to you – as an Amazon Affiliate, I earn from qualifying purchases.