What's your favorite recipe so far in The DIRTY, LAZY, KETO Dirt Cheap Cookbook? I can't wait to hear your reviews! Be sure to tag me in the recipe pictures that you post on social media. I want to cheer you on!
Here is some of the feedback I've received so far about the easy keto recipes…
"I received the DLK Dirt Cheap cookbook yesterday. It felt like Christmas! I made the Huli Huli Chicken tonight. It was amazing. Not a chicken thigh left. My boys, who are not Keto, LOVED it, and asked when I would make it again." – Jamie B.
"I just made the 'Brown Bag Blueberry Muffins' from the new Dirt Cheap Cookbook. Loved them! My husband asked for seconds." – Maryanne K.
"I made the cinnamon chaffles last night and they were amazing!" – Barb S.
And this one REALLY made me laugh…🤣
"Dirt Cheap Cookbook is awesome. Great tips, suggestions, and of course wonderful recipes. A book for the masses. No organic, grass-fed purist crap here!" – Sheryl D.
Losing weight doesn't have to be complicated, boring, or EXPENSIVE. That's why I decided to tell my story (every embarrassing part!) to help others lose weight just like I did.
DIRTY, LAZY, KETO WORKS!
Available NOW in paperback and ebook. Check out The DIRTY, LAZY, KETO Dirt Cheap Cookbook: 100 Easy Recipes to Save Money & Time! by Stephanie and William Laska (Simon & Schuster, 2020). It's available inside stores like Target or Barnes & Noble, and online on Amazon or wherever you like to shop for books.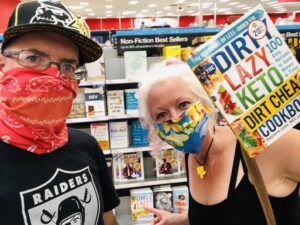 Ready to get started with meal planning? I recorded this short video to help you get started. Among the many tips I share, I explain how the recipe icons inside the Dirt Cheap Cookbook can help you plan weekly meals. Save money, save time, and stay on track with dirty keto meal prep! I'm here to help.