No time to cook? No problem! 100 quick fix keto recipes ready in under 30 minutes from USA Today bestselling author, Stephanie Laska. Fast low carb recipes. New!
Put down the take-out menu and pick up The DIRTY, LAZY, KETO No Time to Cook Cookbook by USA Today bestselling author, Stephanie Laska.
Stephanie Laska lost 140 pounds and kept the weight off for almost a decade by taking short-cuts in the kitchen. Living by the mantra, "You don't have to be perfect to be successful!" Stephanie breaks all the rules of strict dieting with her own "dirty" and "lazy" style of keto. She's back to show you all her cooking short-cuts and fun-to-make recipes in The DIRTY, LAZY, KETO Cookbook No Time to Cook Cookbook.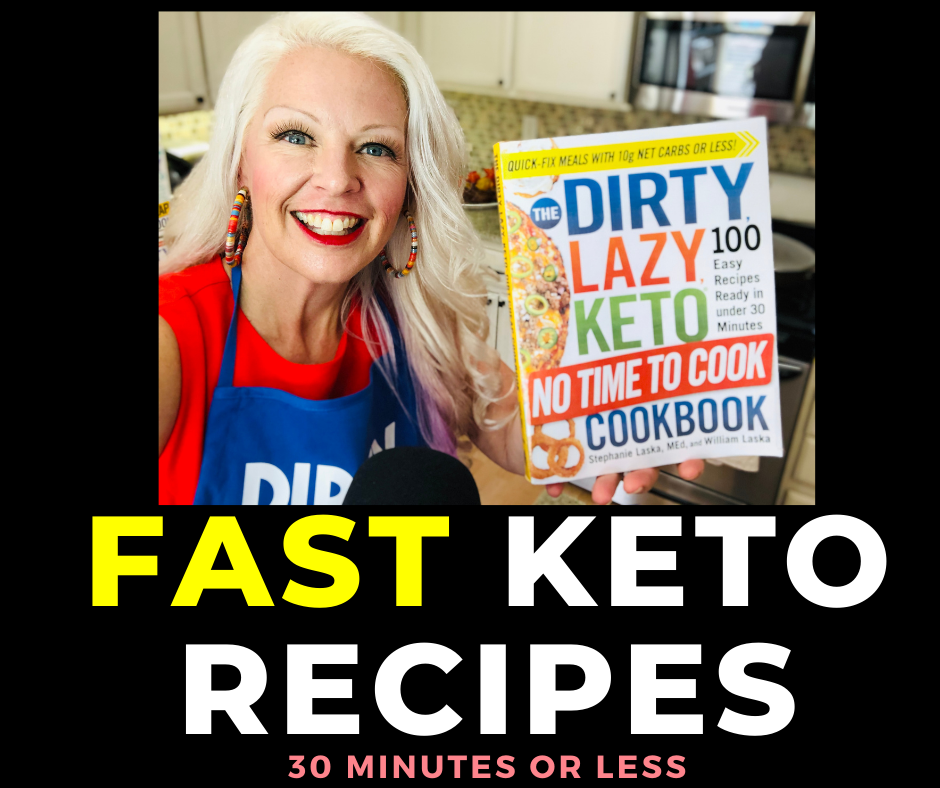 When Stephanie created DIRTY, LAZY, KETO, she was working full time while managing a hectic household. At the end of a busy day, she had to get dinner on the table — fast! There was no time to waste prepping or preparing unnecessary ingredients, or worse, make a meal the family wouldn't like. Instead, Stephanie got to work creating quick-fix DIRTY, LAZY, KETO meals that would help her to lose weight while delicious enough for the whole family to enjoy.
Let's take a look inside. Here's an example of a super easy (and uber-fast) keto dessert recipe you can make in under a minute, a keto chocolate mug cake that tastes like a gooey brownie. Yum!

With lots of humor and practical tips, Stephanie shares her fast and favorite family recipes. Inside The DIRTY, LAZY, KETO No Time to Cook Cookbook you'll find 100 great tasting 10g net carb or less recipes you can make in 30 minutes or less. As always, ingredients can even be found at discount grocery stores—nothing fancy required! With simple, stress-free instructions, you'll have dinner ready and on the table before the delivery guy could arrive at your doorstep.
Recipes take less than 30 minutes to prep and cook. Each dish is created from the DIRTY, LAZY, KETO basics: healthy fats, lean protein, and slow-burning carbs. You'll find:
• Helpful short-cuts for prepping and execution
• Suggestions to add variety or adjust the recipe to your tastes
• Macronutrients in line with DIRTY, LAZY, KETO
• 10 or less grams net carbs per serving
• Tasty, time-saving "remixes" that transform yesterday's leftovers into an entirely new meal or snack to enjoy today
• One-pot/One-bowl recipes that save you tons of clean up time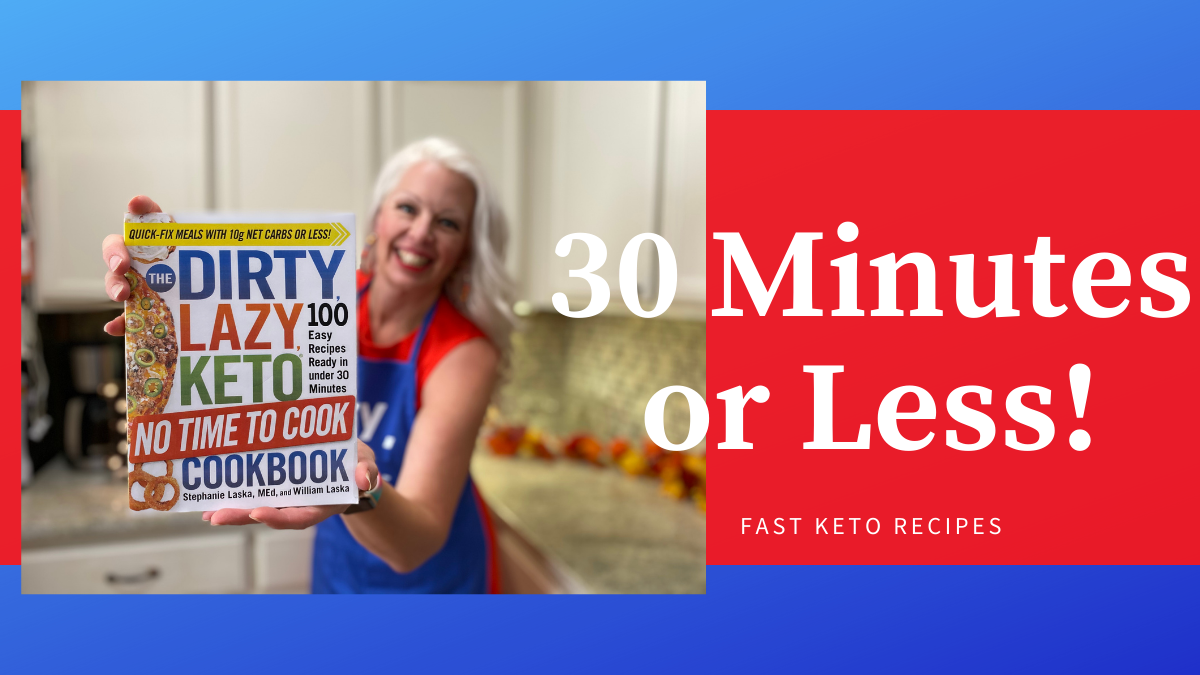 The DIRTY, LAZY, KETO No Time to Cook Cookbook has everyone covered—from meals for picky eaters or big eaters, to fancier meals for guests and vegetarian "ish" options (that don't contain meat but may contain dairy or eggs).
Stephanie explains her flexible, honest, real-world approach to losing weight while still living a normal life. You'll find shortcuts to save you time and help you get food on the table even on the busiest days. Losing weight doesn't have to be complicated or time-consuming!
The DIRTY, LAZY, KETO No Time To Cook Cookbook empowers you to keto your own way—in a style and on a schedule that works for you. Recipes in this judgment-free cookbook support your unique path to sustainable weight loss, not perfection.
As seen on NBC's The Today Show! DIRTY, LAZY, KETO, and Stephanie Laska have also been featured in PARADE, Reader's Digest, First for Women Magazine, Woman's World Magazine, Costco Connection, Fox News, Men's Journal, US News & World Report, Yahoo! News, and the New York Post.
Related Posts:
Free Keto Dessert Recipe: Chocolate Keto Candy!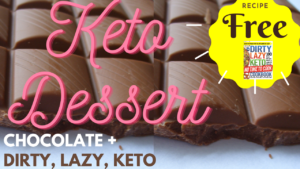 Dirty Keto Results: Weight Loss Success Stories!

Dirty Keto Meal Planning: Lazy Keto Meal Prep Explained!