It's unbelievably hot right now. In my community, temperatures have been in the 100Fs for weeks. Even though the AC is on, sometimes I just don't feel like low carb cooking. What are some keto "no cook" options? Besides a salad, what can you eat that doesn't involve heating up the whole house? There are plenty of options!
I share favorite "no cook keto" ideas and recipes in Woman's World magazine (Aug. 24, 2020). I know you'll love the almost-instant keto pudding! Did you spot me on the cover? Look closely – I'm in the corner!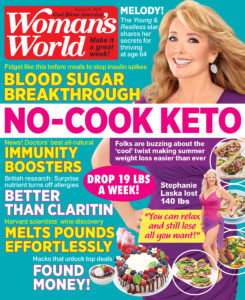 I want quick and easy meals or snacks that don't require much fuss during a heatwave. Here are some of my favorites that don't involve the "stove."
Grilled Shish-ka-bobs on the Barbecue
Guacamole scooped up with slices of raw zucchini
Sugar-Free Jell-O with REAL whipped cream
Tacos with low carb tortillas (meat cooked in the Instant Pot)
Air Fryer Brussel Sprouts – YUM
Steamed Artichokes with Mayo
Charcuterie Platter (that's a fancy pants meat/cheese/veggie platter)
Tuna Salad (best eaten with celery sticks)
"Unwich" – pass on the bread! Turkey and Cheese Lettuce Wraps
Chocolate "pudding" – yogurt with cocoa powder/sugar-free sweetener
You don't have to be fancy. Don't overthink it! Eating healthy is what matters. Stay on track with simple "no cook" meals. Stay cool and relax.