Podcast: Play in new window | Download
Subscribe: Apple Podcasts | Spotify | RSS | More
Quickly name some keto essentials you can't live without. It's fun to compare lists! Think about wants versus needs. What do you REALLY need for a dirty keto diet? The truth might surprise you. Here is a list of my top 10 keto essentials. These are the "must-haves" I can't do without.
Keto Essentials
Ketosis doesn't need to be so mysterious. I'll share all of my weight loss secrets with you! I'll start by explaining the keto diet basics. After that, I'll teach you what and how to eat. You won't be alone on this ketosis journey. I'll be at your side every step of the way.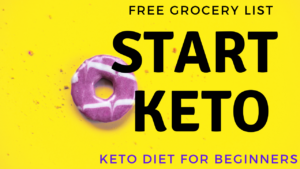 Before you do anything, sign up for my free keto-support newsletter. It's full of helpful keto essentials, tips and tricks, low carb recipes, links to instructional videos, and loads of weight loss inspiration. BONUS: Look for the free starter keto grocery list inside your welcome email. There is no charge to receive my newsletters. Unsubscribe at any time.
Grocery Shop: Keto Essentials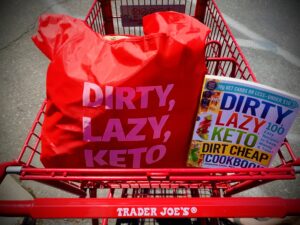 STEP ONE: KETOSIS "HOW TO" GUIDE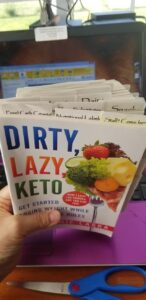 First, you're going to want to read the "how-to" guide. Everything you need to know about keto essentials, ketosis, and how to lose weight on a keto diet is inside DIRTY, LAZY, KETO Get Started Losing Weight While Breaking the Rules by Stephanie Laska (St. Martin's Essentials, 2020). This USA Today bestseller is a fun, quick read. It will quickly become your keto bible! Borrow it from your local library -or- order from online retailers like Amazon, Barnes & Noble, or local bookstores.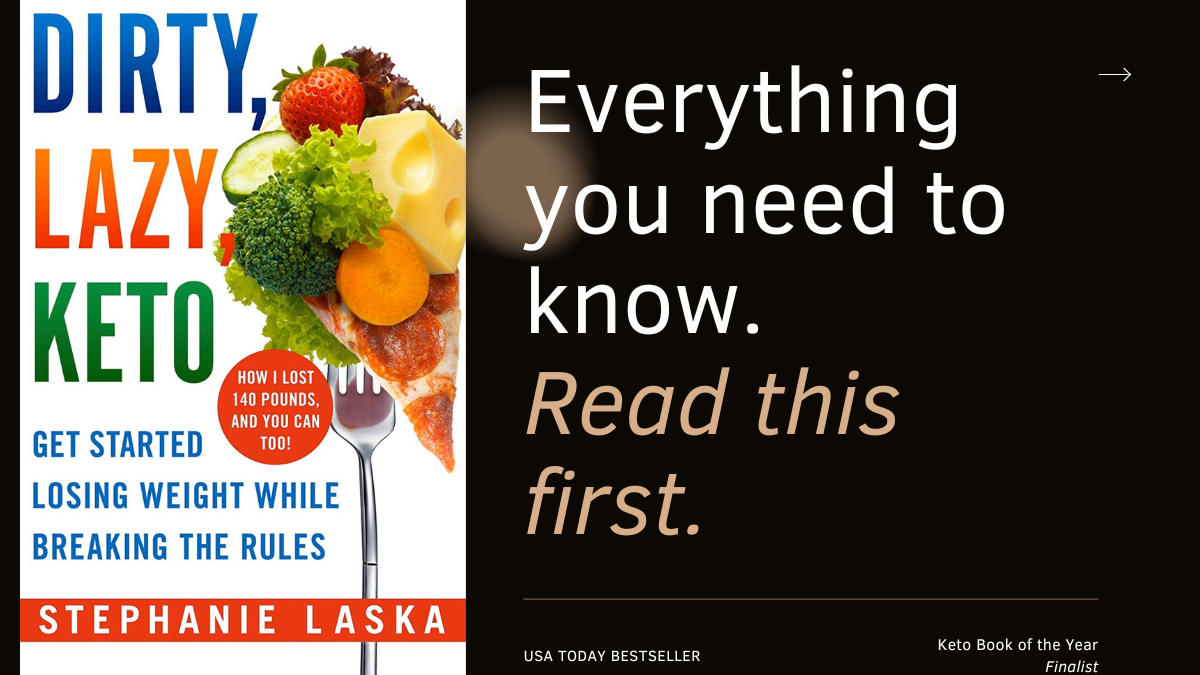 STEP TWO: KETOSIS COOKING
Second, after you're finished reading DIRTY, LAZY, KETO Get Started Losing Weight While Breaking the Rules (or listening to the audiobook), you're ready to start cooking. Make delicious ketogenic meals with the help of The DIRTY, LAZY, KETO Cookbooks – there are four in the series. Each with a fun theme and 100 unique ketosis recipes – no overlaps or repeats. Collect in any order.
If you'd like to buy the complete set, click here to view them as a list on Amazon.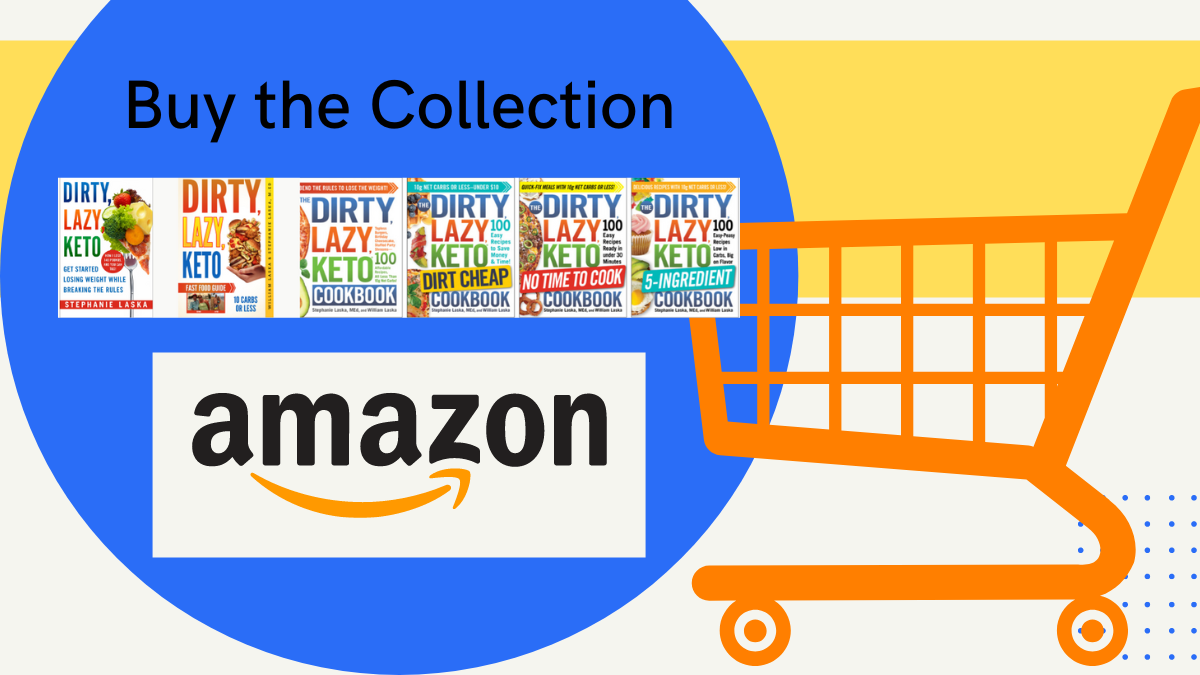 Not only will you get into ketosis, but with The DIRTY, LAZY, KETO cookbooks, you're likely to have fun in the kitchen along the way. Prepare to be entertained as you learn to create a crowd-pleasing assortment of stress-free keto recipes (main meals, snacks, sides, soups/salads, pizza/bread, desserts/drinks), all10g net carbs or less per serving (macronutrients provided.
Ketosis Recipes & Resources – Collect them all
The DIRTY, LAZY, KETO 5-Ingredient Cookbook: 100 Easy-Peasy Recipes Low in Carbs, Big on Flavor (Simon & Schuster, 2021)
The DIRTY, LAZY, KETO No Time to Cook Cookbook: 100 Easy Recipes Ready in Under 30 Minutes (Simon & Schuster, 2021)
The DIRTY, LAZY, KETO Dirt Cheap Cookbook: 100 Easy Recipes to Save Money & Time! (Simon & Schuster, 2020)
The DIRTY, LAZY, KETO Cookbook: Bend the Rules to Lose the Weight! (Simon & Schuster, 2020)
DIRTY, LAZY, KETO Fast Food Guide: 10 Carbs or Less (2018)

STEP THREE: GET SUPPORT
Equal in importance to the ketosis guide and cookbooks, step three is to get support. Join the DIRTY, LAZY, KETO community. You'll quickly realize that you aren't alone! Subscribe (for free) to my YouTube channel, DIRTY LAZY KETO by Stephanie Laska or listen to the weekly podcast. I host different levels of Facebook support groups and host live weekly classes. Bring your questions about ketosis and get ready to make friends.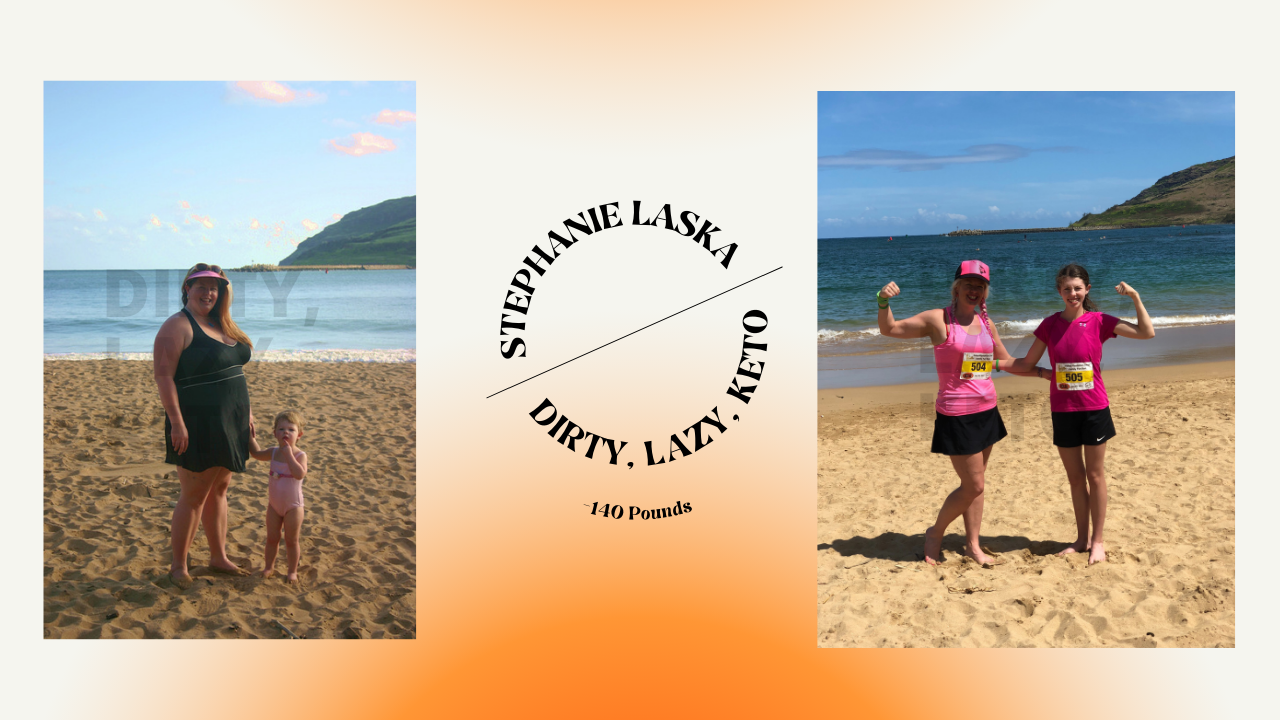 Last, but not least, know that we're in this together. I'm here to help you. Let's do this!
Stephanie – 140 pounds
Author/Creator of DIRTY, LAZY, KETO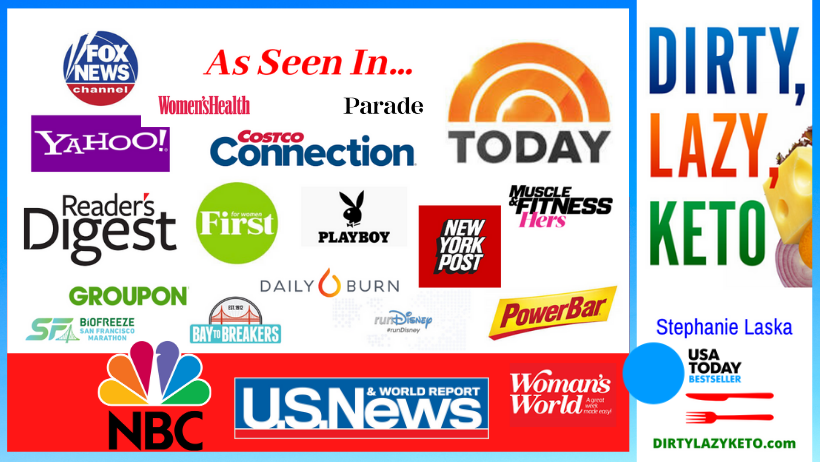 Helping to keep this site and many of the resources free… at no cost to you – as an Amazon Affiliate, I earn from qualifying purchases.