Podcast: Play in new window | Download
Subscribe: Apple Podcasts | Spotify | RSS | More
How do you eat an elephant? …One bite at a time.
When I set out to lose 140 pounds, that number seems UNBELIEVABLE to me. That's like losing an entire person! (Well, half of me anyway.) Having a goal this large was overwhelming. Intimidating. Scary, even! Instead of thinking about this HUGE goal, I broke it down into small steps. Baby steps were more manageable and attainable. Lose 2 pounds instead of 140? That I could do.
It wasn't enough for me to just blindly stumble down a weight loss path, though. I needed concrete steps to stay accountable. Tracking to goals doesn't have to be homework. Making a plan to succeed can actually be fun! For example, part of my plan was to earn little prizes every time I hit a weight loss milestone.
As I talk about in DIRTY, LAZY, KETO Get Started Losing Weight While Breaking the Rules, I made a plan to celebrate with balloons every time I lost 10 pounds. This was so motivating! I'm so proud of these photos that documented my weight loss journey.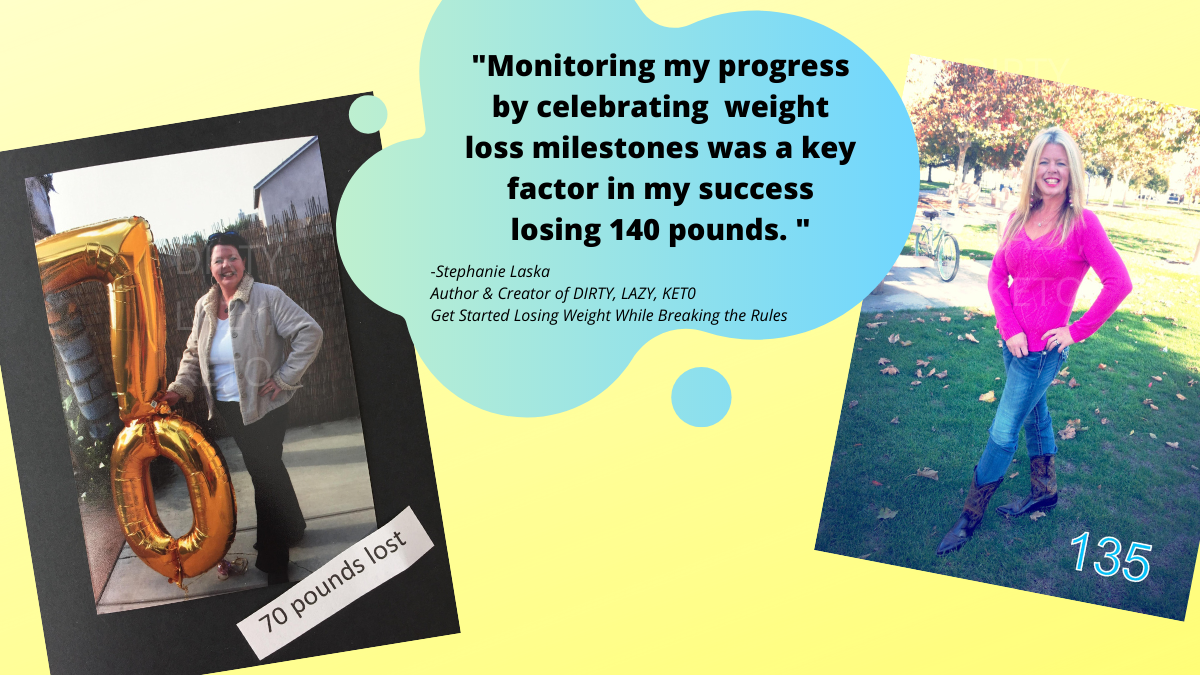 Tracking toward a weight loss goal has many benefits:
People that make a plan are more likely to reach their goals.
Seeing how much progress you've made helps keep you motivated (and therefore prevents quitting).
It's a positive way to celebrate your success and boost overall confidence.
Sounds good, right? So how do you get started with a plan to track toward your goal? In this week's episode of the DIRTY, LAZY, Girl Podcast #18, S.2, we share 7 creative tracking strategies you can use to monitor progress toward achieving any goal you are working toward, including weight loss. The skill of learning how to track toward a goal is universal and practical. Join in on the conversation with Stephanie and Tamara!
DIRTY, LAZY, Girl Podcast is a free support tool developed by Stephanie Laska to help support the lifestyle changes needed for permanent weight loss. It's available for you to listen and subscribe on Apple Podcasts, Spotify, IHeartRadio, Google Podcasts, Stitcher, and even here on the dirtylazyketo.com website. Show your support of the DIRTY, LAZY, Girl podcast by leaving an honest review on Apple Podcasts. We appreciate your help!
Stephanie Laska is the USA Today bestselling author and creator of DIRTY, LAZY, KETO. To help you get started on your weight loss journey, check out DIRTY, LAZY, KETO Get Started Losing Weight While Breaking the Rules.