Podcast: Play in new window | Download
Subscribe: Apple Podcasts | Spotify | RSS | More
Keto desserts don't have to sabotage your weight loss efforts this holiday. Enjoy low carb baking with a few little tweaks to prevent a keto plateau or weight loss stall. In today's episode, we share 6 tips to help you enjoy holiday baking on your own terms. With a plan in hand, you can enjoy the season without the keto desserts getting out of hand.
Keto Desserts, Low Carb Holiday Baking Tips #51, season 2 of the DIRTY, LAZY, Girl podcast is brought to you by Stephanie Laska, the author, and creator of DIRTY, LAZY, KETO. Losing weight with keto isn't about JUST cutting carbs. In my experience of losing 140 pounds, I needed to make improvements in many areas of my life! I created the DIRTY, LAZY, Girl podcast with my BFF Tamara to help others overcome common obstacles in their path – we offer up "dirty" and "lazy" tips to work your way around them.
I offer additional keto lifestyle tips (and delicious keto dessert recipes!) in The DIRTY, LAZY, KETO Cookbooks – every recipe is under 10g net carbs per serving and all of the macros are calculated for you. No muss, no fuss! What's the latest and greatest? The DIRTY, LAZY, KETO No Time to Cook Cookbook: 100 Easy Recipes Ready in Under 30 Minutes by Stephanie & William Laska (Simon & Schuster, 2021) available in paperback or ebook.
Did you enjoy today's podcast? Show your support by liking the video, making a comment, and subscribing to the channel on YouTube. If you're listening to the audio podcast, leave an honest review on ApplePodcasts. Thanks for your help!
RELATED POSTS:
Holidays on Keto? Reframe Keto Celebrations (and Don't Fall Off the Wagon!)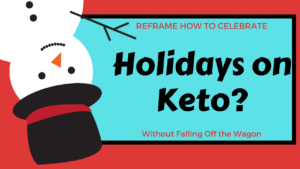 Carbquik and DIRTY, LAZY, KETO?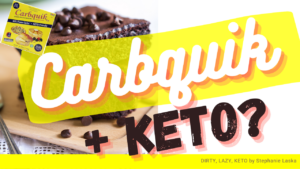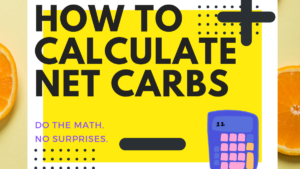 At no cost to you, as an Amazon Affiliate, I earn from qualifying sales.