How do you make an easy Keto pizza crust in under 3 minutes? Live from The DIRTY, LAZY, KETO Cookbook: Bend the Rules to Lose the Weight! Stephanie Laska teaches you how to make a keto pizza using just 4 simple ingredients. Watch the 3-minute video below! Spread the love of the #DLKCookbook by giving the video a thumbs up, then share it on social.
There are so many ways to make low carb pizza. Would you like more easy tips and tricks? I share all sorts of keto-friendly ideas for how to eat pizza on a low carb diet in this video (posted on the DIRTY, LAZY, KETO YouTube channel). From pizza crust to sauce, toppings and more, this keto pizza video will give you more confidence when enjoying your favorite dish.
After losing 140 pounds, bestselling author Stephanie Laska shares her unconventional weight loss secrets and 100 easy, accessible recipes so you too can experience the fun behind the keto lifestyle with lots of humor and zero judgement.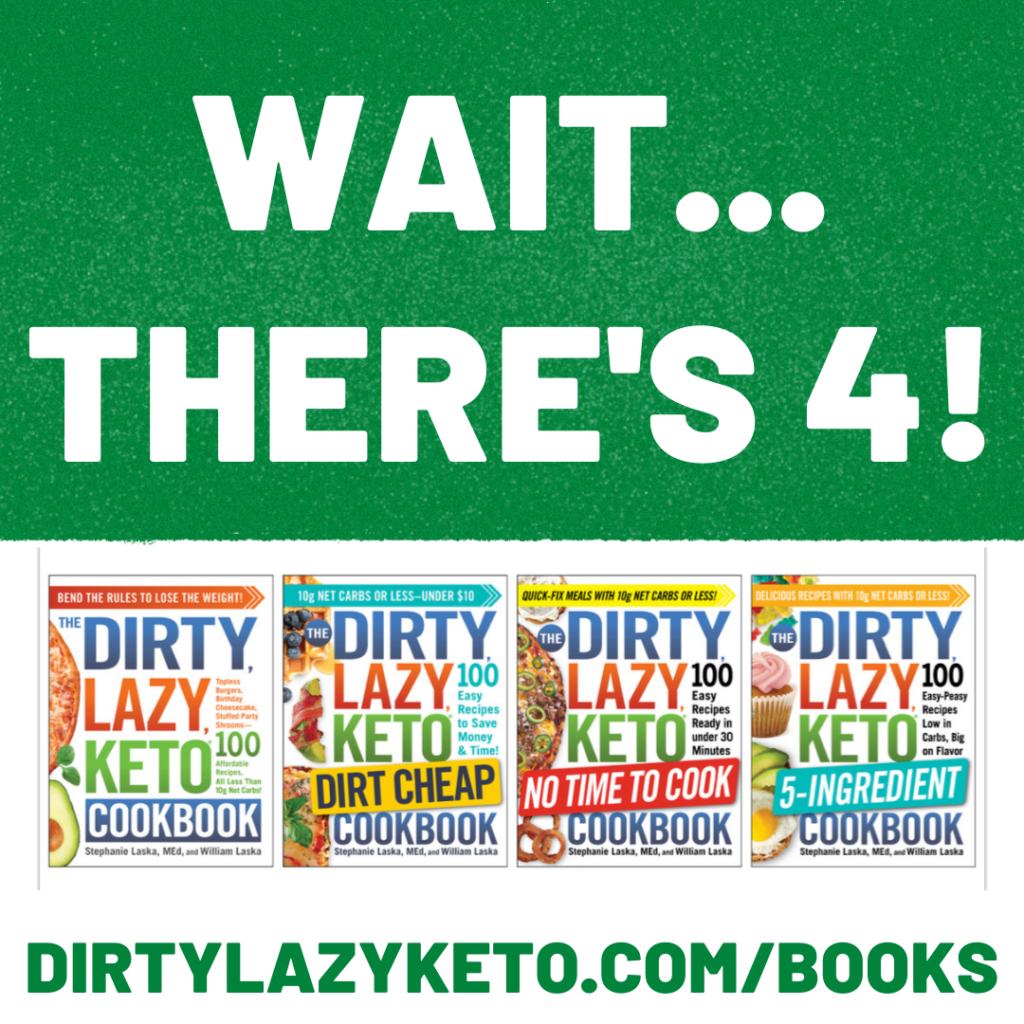 Each of the DIRTY, LAZY, KETO cookbooks share a variety of keto pizza recipes. Who knew there were so many ways to make a low carb pizza crust?
Once you open your mind to cooking with new (often unconventional) ingredients, the possibilities become endless. Let's do a little show and tell of low carb baking ingredients. Come visit me in my keto kitchen!
What goes well with keto pizza? Chicken wings and a low carb beer, of course! In the above video, I'll teach you how to make my favorite Keto-Friendly Chicken Wings with Bing Bang Sauce (from DIRTY, LAZY, KETO Get Started Losing Weight While Breaking the Rules, St. Martin's, 2020).
Related Keto Pizza Posts:
I didn't forget about the keto alcohol! Let's take a look carbs in vodka and low carb alcoholic drinks along with low carb beer options. Can you guess the carbs in wine? Carbs in red wine are less than you might think. Let's find out!
Worried about the Keto Police? Don't Listen to Advice from Food Cops!
Fast Keto Recipes! 100 Low Carb Meals, Keto Snacks, and Low Carb Desserts in Under 30 Minutes
The DIRTY, LAZY, KETO No Time to Cook Cookbook
by Stephanie & William Laska (Simon & Schuster, 2021).