Buses, Parking, Hotels & Ride Share Tips
How to get to and from the LA Marathon stress free!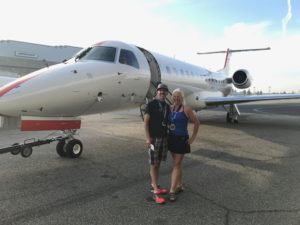 My first LA Marathon experience was back in the 90's. A friend of mine was running, and I signed up on a whim at the expo. We grabbed a room at a local hotel without a reservation and simply walked right out of the front door to the start (and since it was a closed loop course, the finish line).  Imagine a small-time marathon event with a "pin" given for crossing the finish line (no medal, gasp!) and every participant's name published the next day in the Los Angeles Times. Wow! So much has changed with race day logistics, but the glory remains the same.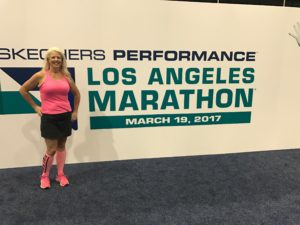 With the Los Angeles Marathon just days away, let me suggest insider tips to help ease your transportation tips for this marathon of a lifetime in the city of dreams.
The night before…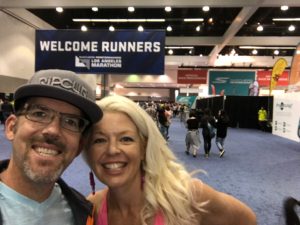 If you haven't made arrangements already, I highly recommend staying at a local hotel the night before. Avoid the congestion of participants and spectators driving in the morning of the event and spend those precious extra minutes relaxing under high thread count sheets. In addition to a restful night's sleep, you can jump onto a LA Marathon free shuttle bus to the start. How convenient is THAT? Your three free bus options are 1., to stay in Santa Monica and take the free shuttle to Dodger Stadium 2. Grab a shuttle at Union Station – Patsaouras Transit Plaza, or 3. stay downtown LA in hotels like: Sheraton, Luxe City Center, Hotel Indigo, Millennium Biltmore, Westing Bonaventure, Omni, LA Hotel, and Doubletree LA.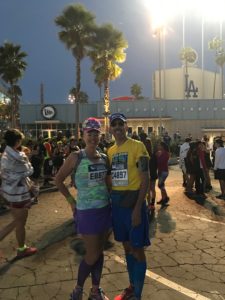 Last year, we stayed in downtown LA. I wanted to be walking distance to the expo and craved a few more minutes of sleep the night before the race. We chose the Sheraton Los Angeles which was safe, quiet, and conveniently located. My rewards status even earned us the coveted "late check out" (translation, AWESOME).  In addition to having a gym with foam rollers (ahhhh! So helpful after the race!), the hotel provided a free breakfast of bagels and bananas for racers in the lobby as we headed out the door. The LA Marathon busses picked up runners at several different designated downtown spots and swiftly whisked us all away to Dodger Stadium without a care in the world. Additionally, the "security" screening took place as we boarded the bus, so once we arrived, there were no more lines to contend with. Easy peasy.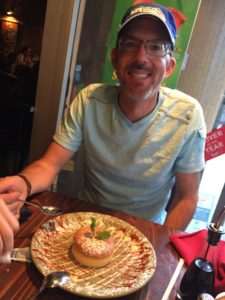 Staying in Santa Monica is your second option. In addition to hearing the waves crash outside your hotel window, you will benefit from the free shuttle from Santa Monica City Hall to the start line at Dodger Stadium. Granted, the hotel rates are probably higher, but you will be thankful once the race is over and you can WALK to your hotel. You are certainly paying for the beautiful view and fantastic convenience after the race ends.
If hotel prices are beyond your means, consider paying to park your car in Santa Monica while you run the race. Reserve a spot in Santa Monica and take the free LA Marathon shuttle bus to Dodger Stadium. Your car will be waiting for you once you finish the race.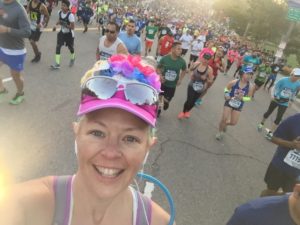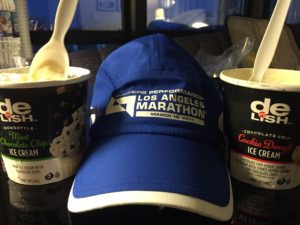 After the race… Now what?
Since the race starts downtown, and ends 26.2 miles later in Santa Monica, you have to make decisions now about transportation. After running a full marathon, the last thing you want to be doing is trying to figure out how to catch a ride. My decision-making skills don't work well at this stage of the marathon due to exhaustion, low battery life of my phone, and the beers I consumed at the finish line festival. If you (or your car) are staying in Santa Monica, your best choice is to walk out that lactic acid buildup. Otherwise, you might be stumbling in circles looking for the free bus back to the start – it doesn't exist! You are on your own and will have to find an Uber or Lyft driver who doesn't mind the smell coming from the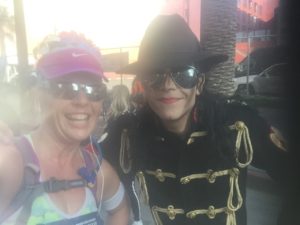 back seat. Only guests saying in downtown LA hotels (booked through the official LA Marathon Hotel Reservation Center) are eligible for the complimentary shuttle bus back to downtown. Alternatively, your best bet is to have a friend pick you up (without the need to park) at the "Runner Pick Up Zone" along the East side of 5th street between Broadway and Wilshire Blvd. They will have three blocks to graze while you attempt to find one another.
Hopefully these suggestions ease your anxiety about getting to the start of the race, and back to your car without worry. Your focus should be on the marathon itself, not transportation to and from. You have 26.2 miles to run – Good luck!